In 1981, I was standing in our kitchen when the news flashed on the television that Natalie Wood had drowned off a boat near Catalina. I remember my Mom's reaction to the news, this would be like Jennifer Aniston dying suddenly now, she was such a popular actress. The investigation ensued and there were never any charges filed but tons of speculation. She was on the boat with her husband Robert Wagner and her current co-star Christopher Walken. There was alcohol involved and apparently a huge argument between the two men. The theory is she tried to leave on a dinghy by herself but never made it to shore. She was famously afraid of water so this theory has always not added up to some.
Natalie started as a child actress, starring in Miracle on 34th Street. Her movie credits are plentiful with the next big role in Rebel Without a Cause with James Dean..
Natalie married Robert Wagner in 1957. She was so beautiful. She had starred in many movies at that point. They made a very handsome couple.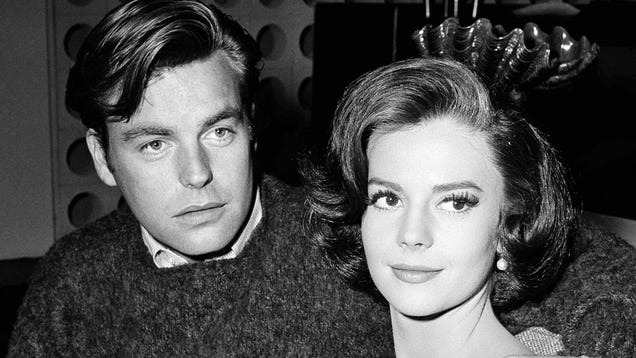 Love with the Proper Stranger
and my all time favorite, Sex and the Single Girl.
She had a daughter from her first marriage named Natasha Gregson and they had a daughter together named Courtney. After her death, Natasha stayed with her Step Father and sisters. Robert had a daughter Katie from a previous marriage.
Natasha looks remarkably like Natalie
Robert with daughter Courtney (left) and Katie (right)
Several times, the case has been re-opened....
Natalie's sister Lana Wood has always maintained that the story of her death didn't make sense.
She wrote a memoir about her...
This week's People magazine has an article about this unsolved case with an interview with Robert Wagner. Now 86 and married to Jill St. John, he says her death "shattered" him. I can't wait to read this article when it arrives in my mail box!